The Shih Tzu, according to tradition, was developed in China's Imperial courts by the crossing of ancient Chinese and Tibetan breeds. This royal dog became extinct in China following the revolution of 1949 but fortunately, a number of Shih Tzu had been taken home by diplomats so the breed was continued in England, Norway, and Sweden. In recent years the breed has become enormously popular in North America as a sturdy, lively, alert small dog that is a happy companion. Shih Tzu in the show ring have a long flowing double coat, whereas family pets look charming in a variety of short hair clips. The name Shih Tzu means lion dog in Chinese and he received the name because of his long, flowing main-like coat. He has a distinctively arrogant personality, but is actually playful and gentle. He adapts well to any family situation and will enjoy a cuddle in your lap, doing tricks, or fetching a tennis ball.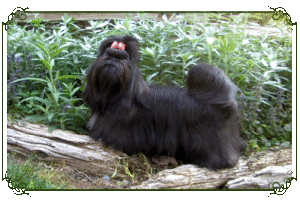 Weight: 9-16 pounds
Height: 8-11 inches
Colour: Any
Coat: Is naturally long and can be a variety of colours. Daily grooming is required. To prevent tangles, the coat must be combed every day. It is necessary to keep the hair out of the dog's eyes. It is also necessary to have the dog clipped every 2 months. There are many fashionable short clips for those who prefer to keep their Shih tzu clipped short.
Activity level: Do not require extensive exercise; playing with toys or going for short walks is adequate.
Character: The Shih Tzu is an independent breed that is intelligent, lovable, affectionate, sociable, and cheerful.
Temperament: this dog always behaves with dignity, and gets along with other household pets and children.
Training: This breed's somewhat obstinate nature makes consistency essential in the training process.